By Bob Greene, CNN Contributor
October 17, 2011 -- Updated 1519 GMT (2319 HKT)
STORY HIGHLIGHTS
Bob Greene says as a teen, he encountered Martin Luther King Jr. while shopping in Miami
He says he was shocked, but they chatted; for years he wondered why King was there
He learned recently from writer that King had retreated there because of exhaustion
Greene: King was Nobel laureate, famous, accomplished -- and only 36
Editor's note: CNN Contributor Bob Greene is a bestselling author whose books include "Late Edition: A Love Story" and "Once Upon a Town: The Miracle of the North Platte Canteen." His forthcoming "The Road Home: Tales from the Back Nine of Life" is being previewed at twitter.com/the_road_home. Watch him on CNN Newsroom Mondays during the 9 a.m. (ET) hour.
(CNN) -- "Excuse me, sir. Are you Martin Luther King?"
Forty-six years ago, my friend Gary Herwald, walking with me through the little shopping arcade of a hotel in Miami Beach, said those words to a man standing a few feet away, a man we had encountered by chance. It was one of the most surreal and wondrous moments of our young lives.
I called Gary the other night, because finally, all these years later, we have an answer to the question we've been asking ourselves ever since: What was Dr. King doing there? What had brought him to Miami Beach, to this small collection of nondescript stores, where he was window-shopping?
Gary and I, with a couple of other buddies, had been allowed by our parents to travel from Ohio to Miami Beach for our high school spring vacation -- in 1965, it wasn't yet called spring break. We had hung around the beach, savoring the feeling of being away from home with no one to answer to.
On this particular evening, Gary and I had split off from the others and had decided to explore some of the hotels along Collins Avenue. We had gone in and out of a number of places, and we stopped in at a hotel whose name, if memory serves, was the Beau Rivage.
There was a shopping court on the lower level, all but empty on this early evening. Gary and I were looking around, deciding where to go next, and we noticed an African-American man in a dark business suit just steps away from us. This was not a commonplace sight in the Miami Beach hotels of those years.
We looked over at him, and then at each other. Could this be?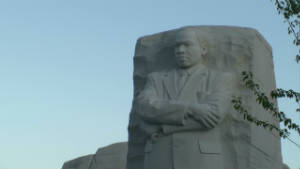 Gary was the one who worked up the nerve to ask him. The two of us walked up to him, and that's when Gary said: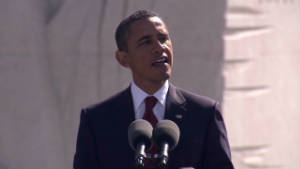 "Excuse me, sir. Are you Martin Luther King?"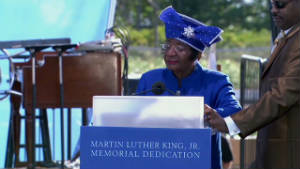 And the man turned to us, and in that voice -- that voice of voices -- said to us: "Yes, I am."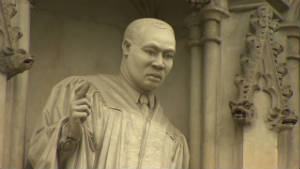 He had already been awarded the Nobel Peace Prize. He had been honored on the cover of Time magazine as the Man of the Year. He had delivered one of the greatest speeches in the history of the United States, the "I Have a Dream" speech.
And here we were. It didn't seem possible.
Gary said to him: "I just want you to know how much we admire you."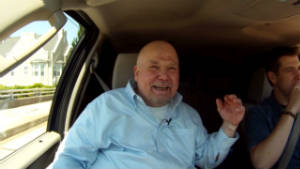 And Dr. King smiled and -- remember, this was 1965 -- said to us:
"You boys aren't from Florida, are you?"
We talked for a few minutes -- I have no recollection of the details of the conversation, just of the fact that, against all probability, we were shooting the breeze with the Rev. Martin Luther King Jr. -- and then we went our separate ways.
Every time I have spoken or written about that moment, people ask: Are you certain? Why would he be there? Are you sure it was really Dr. King who you met?
Yes, we were sure. We were as certain about it as if we had unexpectedly encountered Lyndon Johnson or Mickey Mantle or Ed Sullivan. In that spring of '65, there were some people so famous that the whole world knew them. We were sure.
But we had been accustomed to seeing him on television, surrounded by crowds, addressing reporters and cameras -- we had been accustomed to seeing him on screens orating, stirring great throngs to applause and cheers. Why would he quietly be keeping his own company on this spring night in Florida?
Last week, as preparations were being completed for Sunday's official dedication of the Martin Luther King Jr. National Memorial in Washington, I found the answer.
I was reading "Bearing the Cross," the Pulitzer Prize-winning biography of King written by David Garrow. And there it was, on page 421.
In the spring of 1965, Garrow wrote, following the turmoil of the Selma-to-Montgomery march in Alabama, and in the midst of fractiousness within the civil rights movement and attempts by his enemies to discredit him, King was feeling "exhausted and depressed." This was nothing minor, Garrow wrote: "His closest friends were deeply worried about this new bout of mental and physical fatigue."
His friend and associate Bernard Lee, Garrow wrote, helped persuade King to travel to Miami and then to Nassau to try to get away from the pressures of his public life.
And so there he was, a man passing the time. And there we were, scarcely able to believe our eyes.
I called David Garrow to ask about it.
"Yes, February and March of 1965 had been an extremely intense time for Dr. King," he said. "Selma had been especially stressful. It became a case of 'Are you exhausted because you're depressed, or are you depressed because you're exhausted'?"
For two boys seeing him a few feet away, he seemed to be a man on top of the world. He was so celebrated, so renowned. It didn't occur to us for a second that his life could be anything less than glorious.
"He never gloried in the public image of himself," Garrow told me. "He always held the image at arm's length and sort of looked at it."
Within three years, King would be dead.
And now, as his national memorial is being dedicated within strolling distance of the memorials and monuments for Abraham Lincoln, for George Washington, for Thomas Jefferson, one thought above all others stands out as I recall that long-ago evening in Miami Beach.
That man in the dark suit who had already won his Nobel Prize, who had already been Time's Man of the Year, who was well on his way to an exalted place in the history of this nation? The man who had already accomplished all of that?
On that evening, he was only 36 years old.
The opinions expressed in this commentary are solely those of Bob Greene.